Be heard. Get involved. Create sparks.
The Parents and Friends Association is a proud and vital part of the Ormiston College school community. It provides a platform and voice for all parents and local community members who wish to lend a hand, build our community and assist College Executive and staff.
Parents and Friends meetings
Meetings are held in the Somerset Sports Centre and everyone is welcome to attend. Prior to the commencement of our meetings, parents mingle, chat and network with other parents and the College's Executive. A Headmaster's Report is tabled at every meeting.

P&F Executive Committee
The P&F Association is managed by an Executive Committee comprising of:
Four elected office bearers
A number of Year Level Coordinators
Ex officio members including the Headmaster
All Association Executive Committee positions lapse at every Annual General Meeting and all positions on the Committee become vacant.
Anyone wishing to join the Executive Committee or nominate a candidate need to attend the AGM in order to do so. AGMs are held in March each year.
Have fun and help out
Under the Parents and Friend umbrella there are several support groups that fundraise for a number of educational, cultural, sporting and musical activities. Each group, consisting of staff and parent coordinators, has a specific fundraising focus and most are only active for a term or so. In addition to achieving their specific goals, our support groups have been the starting point for many lasting friendships.
Another P&F tradition is to host a first day back at school morning tea after drop off every term.
Learn More
Membership of Parents of Past Students (POPS)
Parents of Past Students play a very important role in the history of our school and the College values their continued friendship. Membership of the group is automatic upon a son or daughter graduating from the school, regardless of any other siblings that may still be attending the College.

Our POPS Facebook group keeps everyone informed of upcoming events such as School Musicals, Parents and Friends Carnivals, Showcase Days, the various Music Department evenings, Carols in the Courtyard and many others.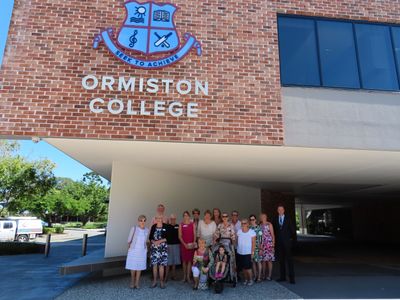 Contact POPS
To request more information or get in touch with POPS:

Email marketing@ormistoncollege.com.au
Phone +61 7 3488 6793